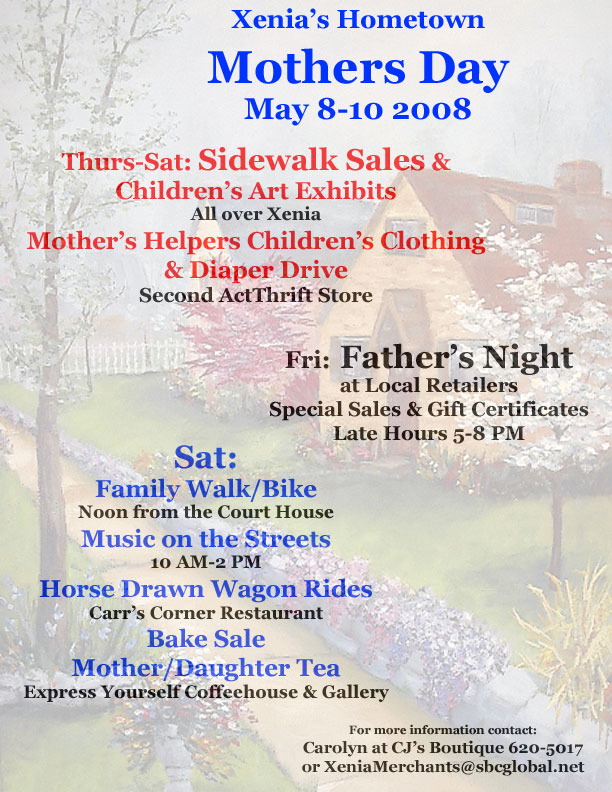 Mom — She's there to support us, sacrifice for us, give us unconditional love and a big hug – no matter how bad we are!!! The Xenia Merchants and Midtown Merchants Associations join the Greene Co. Dailies in hosting a Hometown Mother's Day to show our MOMS how much they mean to us on May 8, 9, and 10th. Sidewalk sales will be held by the merchants Thursday through Saturday (weather permitting).
Take your family for a walk on Friday (9th) in the morning. The City of Xenia is hosting an Historical and Architectural guided walking tour starting at 11 AM, starting at the Greene Co. Courthouse at the corner of Main and Detroit. Friday evening is "Fathers night." Many stores will remain open late offering gift cards, discounts, or free wrapping. Personal shoppers will be available to help you choose the right gift.
The Xenia Gazette is offering a contest for children to "draw the face of your Mom." One winner will receive a $50.00 voucher to be used at any participating merchant. Entry forms are available in the newspaper or at participating merchants. See newspaper for details.
Moms! Tired of receiving a toaster rather than something you really wanted? Use a "wish list" available at local merchants to share your choices with your family. The form should be picked up and completed by May 6th so that you will have time to give it to your loved ones.
The Xenia Merchants will be hosting several events on Sat., May 10th. Live music will be performed in front of various stores and restaurants. Xenia Shoe and Leather is offering sales and free foot rubs by Ohio Academy of Holistic Health students. Express Yourself Coffeehouse and Gallery will host a Mother's High Tea from 2 to 4 PM. Reservations are recommended. Blue Jacket Books will discount cook books, craft and gardening books by 25%. Oasis Cafe' will be offering Moms a taste of homemade candies and live music to dine by. The Flower Stop will have extended hours all week prior to Mother's day and will have a special table set up for children to make their Mom a card. Country Joe's will offer a 30% discount on Mother's Day gifts and all pictures and hosting a gourmet and cheese tasting event on Sat from 11 to 2 PM. CJ's Boutique will have Just Jewelry on sale and free back rubs by Holistic Academy students available from 11 to 4 PM on Sat. Curves will be offering a Mother's Day special: a 3-month gift certificate (from Dad or child) can be purchased for $99.00. A Savings of over $50! The Second Act Thrift Store will have a wide selection of children's clothing on display at bargain prices. This is only a small list of events happening at various stores.
A bake sale will be located in front of the Xenia Gazette building with the proceeds to be used to support merchants' events such as Hometown Christmas in December. All items are being donated by the merchants.
There are many more merchants offering specials in their stores and many local restaurants will be having coupons for meals or specials for the day. There are even some surprise happenings. Come and see! Bring the family to town for a walk or a bike ride on Saturday. Make your Mom feel special and enjoy the day in Xenia, save on gas and support your local merchants.