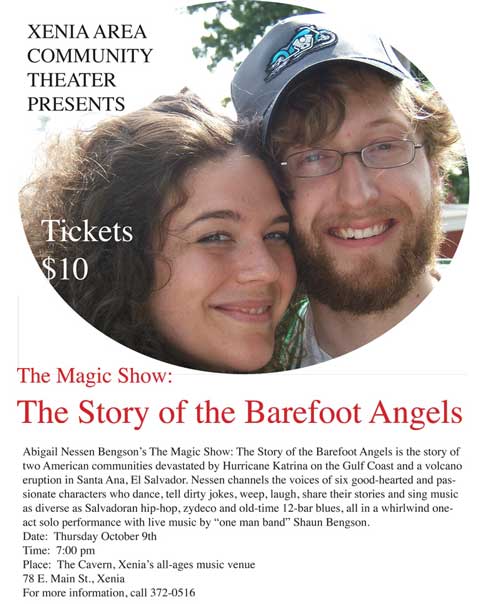 About The Artists: Shaun Bengson is a multi-instrumentalist, singer, songwriter, composer, and actor who has performed in venues across the Midwest and East Coast. Bengson grew up inBellbrook, Ohio, where he performed as an actor and musician with community productions around Dayton.
Abigail Nessen Bengson is an internationally recognized performer, writer and teacher. She began her career with Theater Group Limited at age six. Growing up she performed with Fontella Bass and Lester Bowie, the Roy Hart Theatre in France, with the Ghanean National Theater and with the popular Norwegian band, Brelsk. In 2004, she premiered her first one-woman show, "Anthem," at the La MaMa Experimental Theatre Club, and her latest work, another one-woman show, "The Magic Show," opened in April 2008.
Shaun and Abigail are currently working on multiple theater and music projects in New York City, the Northeast, and the Midwest. Their theater projects include their original off-Broadway production, "The Magic Show: The Story of the Barefoot Angels," which opened to acclaim at The Culture Project in Manhattan. Their Brooklyn-based rock group, the Zombie Nationalists has two albums in production.
Shaun and Abigail are currently living in Vermont and Massachusetts, completing an artists' residency with David Eppel and the Vermont-based Town Hall Theater while they write a new theater piece to be performed internationally in 2009.