Bill Conner is a local candidate running for U.S. Congress. While preparing for the Fairborn 4th of July parade, he and his campaign staff were pleasantly surprised by the visit of the famous OSU Buckeye Man and Ohio State head coach Jim Tressel. Unfortunately, both famous visitors were not the real thing. They were merely fun-loving impersonators albeit very good fakes as seen in the picture below.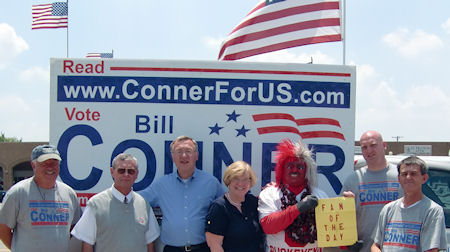 The picture above includes Bob Billett, Coach Tressel (Dennis Singleton), Bill Conner, Carolyn Conner, Buckeye Man (Larry Lokai), Jason Conner, and Andy Feeser. Carroll Day, John Flemming, and Abby Comstock completed the crew for the parade.
Let's hope Conner's supporters are the real thing.