By Daniel Downs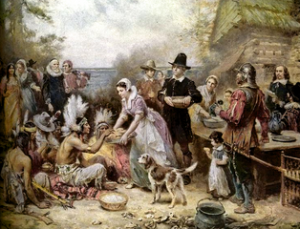 The American Thanksgiving tradition is a religious tradition. It rooted the survival stories of our Puritan ancestors. The journals of both William Bradford and Edward Winslow are important sources of that narrative. It is in those two literary sources that the Thanksgiving tradition is discovered.
It is true that the Thanksgiving holiday was not observed by New England colonists. The Puritans of Plymouth were not attempting to create a holiday. That was for Abraham Lincoln's generation and others to make it so. Our Puritan ancestors were simply practicing principles of their Christian religion as well as being grateful their Indian friends. They were grateful to God for helping them survive the harsh winters and some hostile natives. They also were thankful God for natives like Squanto and Massasoit to help learn how to adapt and thrive in the new land.
It is not true that Thanksgiving is a non-religious holiday. Consumer America has made it one of America's premier holidays for commerce. Selling turkeys, ham, cranberries, pumpkin pies, gasoline, airplane tickets, and black Friday deals may be the main trappings of the so-called Turkey Day, but it has not always been a commercial holiday.
The Puritans simply celebrated God's blessing of a bountiful harvest and hunting season. It was shared with family, friends, and even neighbors. In fact, it was a community feast where God was included, honored and even thanked for His providential provision. Moreover, this community feast continued the Christian tradition of including those of less fortunate circumstance and natives whose religious beliefs differed from their own.
Underlying the religious tradition of Thanksgiving is a more important fact. The gathering of people to share the blessings of material prosperity in a spirit of shared gratitude, especially those who have shared the daily work and struggles that make life, family and community possible, demonstrates the essence and meaning of life.
Thanksgiving is a celebration of life itself.
Commercialization of Thanksgiving reveals the modern momentum toward the degradation of life.
(Xenia Community Thanksgiving Dinner will take place at the Golden Age Senior Citizen Center 130 E. Church St. on the 24th Thursday beginning at 11AM. For more information, go here or read the Gazette article.)