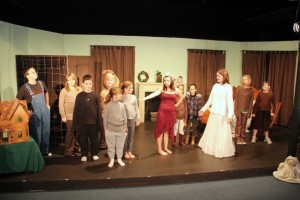 "The Velveteen Rabbit" by Margery Williams is a classic story for children. Some have called it "How Toys Become Real". All of us can connect with the passionate connection we had as children with a favorite stuffed animal. In the production at X*ACT the toys enjoy the love of the child and the love of the audience.
Xenia Area Community Theater, located at 45 E. Second St. in downtown Xenia, has been sponsoring children's productions for over 5 years. This production is for the family with some strong actors returning from main stage productions and summer workshops. Olivia Hampton, Doug McKinley, and Macey and Haven Bradem have participated in many plays. Maria Smith, Hunter and Macie Sparks also have been on the X-Act stage previously.
Directed by Jennifer Sparks, herself an X*ACT veteran, "The Velveteen Rabbit" opens Thursday night, December 8th, with shows on Friday the 9th, also at 7:30 PM. Saturday the show will provide a wonderful ending to the "Hometown Christmas" in Xenia with a 6 PM show. Sunday's Matinee is at 3 PM.
For ticket information, click on the above picture or go to www.xeniaact.org.