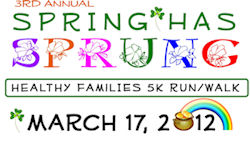 The Greene County Healthy Lifestyles Coalition is holding the 3rd annual "Spring Has Sprung" Healthy Families 5K Run/Walk on Saturday, March 17 at the Greene County Combined Health District in Xenia. This event will benefit the Greene County Healthy Lifestyles Coalition, part of the Greene County Combined Health District, whose mission is to provide and promote healthier lifestyle choices in Greene County. This event is designed to encourage healthy lifestyles in Greene County and bring families of all fitness levels together for a fun event, even for those who have never participated in a 5K event before. And this year, as the race is on St. Patrick's Day, participants are encouraged to "go green" and celebrate in style from head to toe!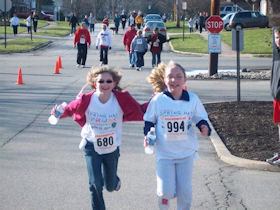 Registration and check-in will begin at 7:30 a.m. at the Greene County Combined Health District in Xenia with the pet- and stroller-friendly run/walk beginning at 9:00 a.m. The course features a flat terrain in and around the Xenia area beginning and ending at GCCHD beside Greene Memorial Hospital. A special race for little ones, ages 5 and younger, will feature a 1 lap race around GCCHD beginning at 8:30 a.m. After the 5K, healthy refreshments will be provided and participants can visit with the various sponsors of the event.
Schools and businesses are encouraged to participate. The school or business with the most race participants will win a plaque. Schools, businesses or individuals registering a team of 10 or more may be eligible to receive a discount on race fees. Interested groups should call Laurie at 937-374-5669 for more information.
Medals will be awarded to the top 3 male/female in each of 12 age categories and a grand prize will be awarded for the top male/female overall.
The cost for the 5K is just $15.00 per person prior to March 9, which includes an event t-shirt. After March 9, the cost is $20.00 per person. You can register online at www.active.com or visit www.gcchd.org to print, complete and mail in or drop off your registration with your payment to the Greene County Combined Health District located at 360 Wilson Drive in Xenia.
Current confirmed partners for this event include WHIO-TV 7, Greene County Parks & Trails, WSU Mini University, Classic Country Radio WBZI, Farmers Insurance, Trophy Sports, Juice Plus, Cardiologists of Greene County LLC, Old Fort Banking, Lofino's, KeySports, The Greene County Dailies, and XWARN.
For questions or further information about the 5K, please contact Laurie Fox, Development Coordinator, at 937-374-5669 or by email at lfox@gcchd.org.