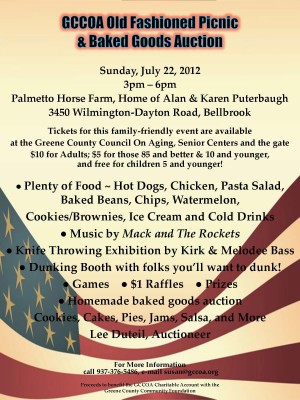 The Council's Old Fashioned Picnic and Baked Goods Auction is this coming Sunday from 3-6pm at Palmetto Horse Farm in Bellbrook. We hope you will consider joining us for all or a part of the afternoon and we would very much appreciate you sharing this with others!
It is a fun, family-friendly event and open to anyone who would like to come out. Tickets are available at the Council and the senior centers, but of course you can pay at the gate!
The forecast, at this moment, shows a high of 88, partly cloudy and no rain. We have made arrangements to have more tents than ever, a creative fan set-up to complement the wonderful breezes we have ordered, and plenty of
water/beverage stations!
We have a little bit of something for everyone, and plenty of food for all – hot dogs, grilled chicken, non-mayo pasta salad, baked beans, watermelon, a variety of chips/snacks, cookies/brownies, and ice cream. Without question, you should not leave hungry!
The food will be available from 3 to 5pm, along with games, a few raffle opportunities and the wonderful music of Mack & the Rockets. An intense wiffle ball game will be played at 3:15pm and a buck will get you three
throws at the dunking booth at 3:45pm. At 4:30pm, the knife throwing duo of Kirk and Melodee Bass will amaze us and have us wincing and shaking our heads!
And then comes the Baked Goods Auction at 5pm. Auctioneer Extraordinaire Lee Duteil will once again keep us enter tained as he separates us from a few dollars for some YUMMY homemade treats! We have a lovely variety of jams, sweet sandwich pickles, salsa, and pickled eggs and beets. We have pies, apple dumplings Mississippi Mud Pie, breads and some tasty cookies (snickerdoodles, Andes Mint, spice). We also have three different home brewed beers on the auction block – Vienna Ale, Irish Ale and Caroline's Gone Red.
And if you cannot join us but would like to bid on an item or two – we can call you during the auction or you can share your 'bid' with Caroline Mullin at 376-5486 or caroline.mullin@gccoa.org . We would be happy to include you in on the fun!
All of the funds raised will be added to our Charitable Account with the Greene County Community Foundation, to be used for programs and services for future seniors and caregivers.
Our appreciation to our sponsors/partners for making this picnic possible ~ Added Touch, Beavercreek Senior Center, Ellie Home Care, Greene Oaks, Home Care by Blackstone, Hospitality Homes, Liberty Nursing Centers of Xenia and Jamestown, Patriot Ridge/Trinity Community, Senior Resource Connection, VITAS Hospice, Wellcare and Xenia Adult Recreation and Services Center.
If you have any questions, please don't hesitate to call or e-mail (376-5486, caroline.mullin@gccoa.org , susan@gccoa.org ).