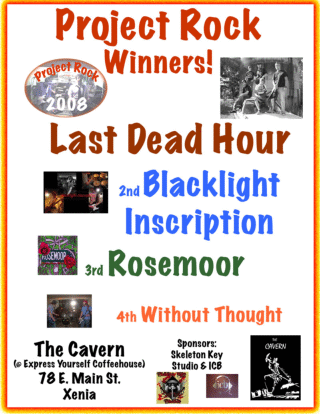 Congratulations to all of the finalists of Project Rock 2008! After 5 rounds of competition, Lebanon's own Rock Gods, Last Dead Hour took the big top prize of $500 in CASH and 10 hours of studio time from Skeleton Key Studio and 5 hours of studio time from the International College of Broadcasting! Thanks to our sponsors and especially to the fans that put these guys over the top.
Kudos as well to Blacklight Inscription, Rosemoor, and Without Thought for their great performances and for bringing the heat to the final show.
For more information about Project Rock 2008, visit the Express Yourself Coffeehouse website.