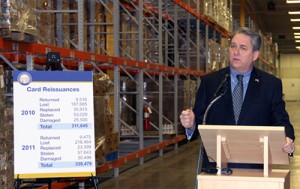 Auditor of State Dave Yost this week identified substantial risks of fraud in Ohio's food stamp program.
"This money is supposed to be going to feed hungry kids, and those kids need the govern- ment to try harder to get the job done," Auditor Yost said Tuesday, speaking at the Second Harvest Food Bank in Columbus.
Responding to reports of misdirected food stamp aid, the Auditor of State's office conducted a review of the program and, in a January 10 letter to the Ohio Department of Job and Family Services (ODJFS), issued recommendations for increased oversight.
Auditor Yost said one high-risk indicator of fraud is frequent reissuance of lost, stolen or damaged cards. In some cases, these missing cards have been sold to corrupt vendors for pennies on the dollar, with the vendors cashing in on the cards without ever moving goods off the shelf. Nearly 340,000 food stamp EBT cards were reissued in 2011, and 17,000 recipients during a five year period received 10 or more cards.
Auditor Yost recommended that ODJFS increase supervision of reissuance practices and work with the Ohio General Assembly and federal sponsors to increase penalties for merchants and other vendors who improperly benefit from cards intended for program beneficiaries.
The Supplemental Nutrition Assistance Program, commonly referred to as the food stamp program, served more than 1.7 million people in Ohio in 2011.