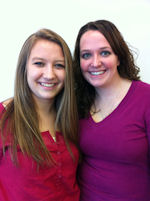 (Dayton, OH) – Kelsey Woodward, Senior at Northmont High School, believes Ms. Janelle Hayes is one special teacher. Like students in schools all over the Miami Valley, Kelsey knows her teacher has made a real difference in her life and thinks it's about time great teachers like Ms. Hayes got some much deserved recognition. Kelsey wants to do something about that and has nominated her Spanish teacher for the Heroic Teacher of the Year award.
The Heroic Teacher of the Year contest was initiated to honor teachers who have distinguished themselves within their school and community through generosity and commitment while putting the needs of students before their own. Besides recognition for exceptional accomplishments, each winner will receive a $200 gift card to their favorite bookstore and an Engage Wireless LCD; an exciting new interactive teaching tool for the classroom, courtesy of UWrite Touch.
The contest was inspired by the ground-breaking novel Leave No Child Behind by Dr. Randy Overbeck, winner of the 2011 Thriller of the Year Award from ReadersFavorite.com. The book tells a story of heroism, when a small-town teacher is confronted by an act of terrorism that threatens her classroom and school.
"After many years as an educator, I hope, as an author, to bring some recognition to those educators who have the willingness to stand up for students and believe in kids who may not even believe in themselves," the author says.
This contest is sponsored by Heroic Teacher Press, an independent publishing company based in Lebanon, Ohio, and UWrite Touch, an educational technology company. The small press is also working with local booksellers like "Chapters:Pre-Loved Books" in Lebanon to find and recognize outstanding teachers.
"The mission of Heroic Teacher Press is to raise the status of teachers in America and all the company efforts focus on that," says Overbeck, a former teacher, college professor and school administrator. "This contest is designed to highlight real life teachers that are largely going unrecognized by the general public."
In her nomination, Kelsey writes Ms. Hayes' teaching "will have a lifetime impact on the person I become." And Kelsey's not alone. Other students are invited to nominate their favorite teacher for the award. Parents, colleagues and supervisors are also welcomed to submit a nomination of a deserving K-12 educator for the recognition. Nomination forms and full details are available online at www.heroicteacherpress.com or by sending a stamped, self-addressed envelope to Attn: Heroic Teacher Contest, 789 Lake Bluff Ct., Lebanon, OH 45036. Information on the contest is also available at participating bookstores.