Xenia's Old Fashioned Days Festival regarded as "The Best of the Best" in Festivals, Fairs and Events, begins Friday September 12 and continues through Sunday September 14. The festival includes: National and Local On-stage, Live Entertainment, Craft Court, Food Court, Parade, Balloon Glo, Field Day, Pedal Boat Rides, Strongman Contest, Carnival Rides…and much, much more!
And that is only at Shawnee Park.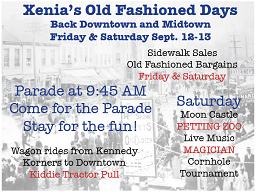 Downtown there will be music by Abbott Station, Battle of the Bands, Battle of the Banks and Realtors, strolling magician, wagons pulled by tractors, barbershop quartet, cornhole tournament, a camel (possibly for rides, possibly just to see, depending on location), and sidewalk sales on Friday and Saturday, and who knows maybe even a skit by X-Act.
Mid-town merchants also will be participating in the Old Fashioned Day festivities and sales.
And there's still more…
X*ACT/ 2nd ACT Thrift Store 45 E Second St. will be having a sale Friday 10am-6 pm, Saturday. 12-5pm. Adult clothing can be purchased for $1.50, shorts and tank tops, $0.50 as well as sidewalk items.
The Flower Stop already kicked off a food drive that began on September 3rd-FTD Good Neighbor Day will continue through Old Fashioned Days. Food items can be donated to Xenia Area Food Fish Pantry. Bring in 2 non-perishable food items for an entry to win a number of prizes: dozen premium roses, $50 gift certificate, holiday centerpiece certificate, fruit basket, silk arrangement. (The more items you bring, the more chances you receive!!!) Drawings will be held on Saturday, September 13.
Express Yourself Coffehouse and Art Gallery will be featuring an old fashioned 10¢ cup of coffee with the purchase of any regularly priced Sandwich & Soup Combo on Friday or Saturday. Artwork will be on sale all weekend as well.
Oasis Cafe will feature Live Music by Lizz and Rex from 6-8 pm Friday, September 12, followed by Ballroom Dance lessons at 8:00 pm and dancing at 8:30 pm. Pre-dance music is free. Cost of the dance is $8 per person in advance, $10 at the door. Price includes finger food, cookies, coffee and tea.
Cricket's Fly Guy will flying high at J&B Wireless at 116 Xenia Towne Square where cell phones may be down low for bargain shoppers.
Psss… I heard that the Liberty Tax Service is sponsoring a window decoration contest for merchants and will award the winner a free, transferable, yes, transferable personal income tax return. Maybe you can guess which merchant won. (Hint: Look for a big head and bright eyes as well as for men in dark suits hanging around.) I also heard a rumor that the IRS is NOT invited.
Schedule of events happening downtown and around town on Saturday:

Where: Towne Square
Time/Event: 12:00 AHOP Band
1:00 Wild Blue Yonder Barbershop Quartet
2:00 Dave Davis Magician
3:00 Abott Station
5:00 – 7:00 Community Dance Rock Your Socks Off DJ
Where: Montgomery Insurance Parking Lot
Time-Event: 10:00 – 5:00 Petting Zoo (Hole In The Wall Farms)
50 cents to feed animals. All donations will go to Xenia Fish Pantry.
Sponsored by Tiffany Jewelry and Xenia Shoe & Leather
12:00-5:00 Moon Jumping Castle $2.00 per person
Sponsored by C J's Boutique, XAMA, Kiddie Kingdom
12:30 Kiddie Tractor Pull
1:00-3:00 Old Timers will transport people by tractor and
wagon to Kenndey Korner
Where: Dodds Monument Parking Lot
Time-Event: 1:00-6:00 Corn Hole Contest $5.00 per person / $10.00 per team
Sponsored by Cedarville Area Chamber
For more information, go to XACC's schedule of events.